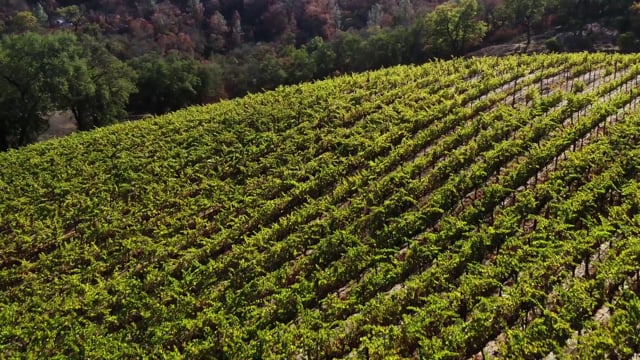 Happy Holidays!
We are excited to announce Great Day Napa Valley, the official wine brand and club of the Pittsburgh Penguins! Join the Great Day Club and experience the benefits and lifestyle.
Countdown to Inaugural Release!
Join the Great Day Club today. Don't miss the opportunity to secure your membership as seniority is based on your sign-up date. The inaugural release of the Great Day Napa Valley wines will be around the end of September.
00
00
00
00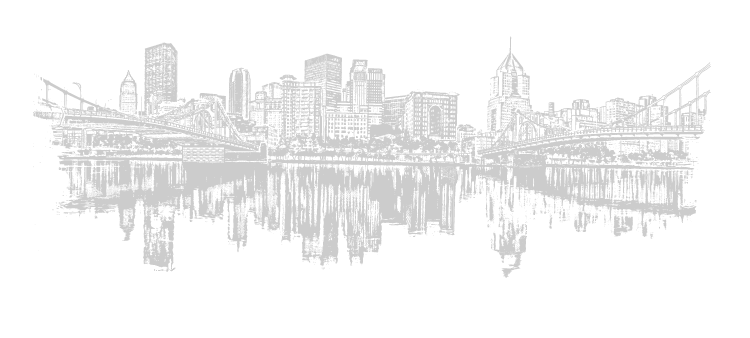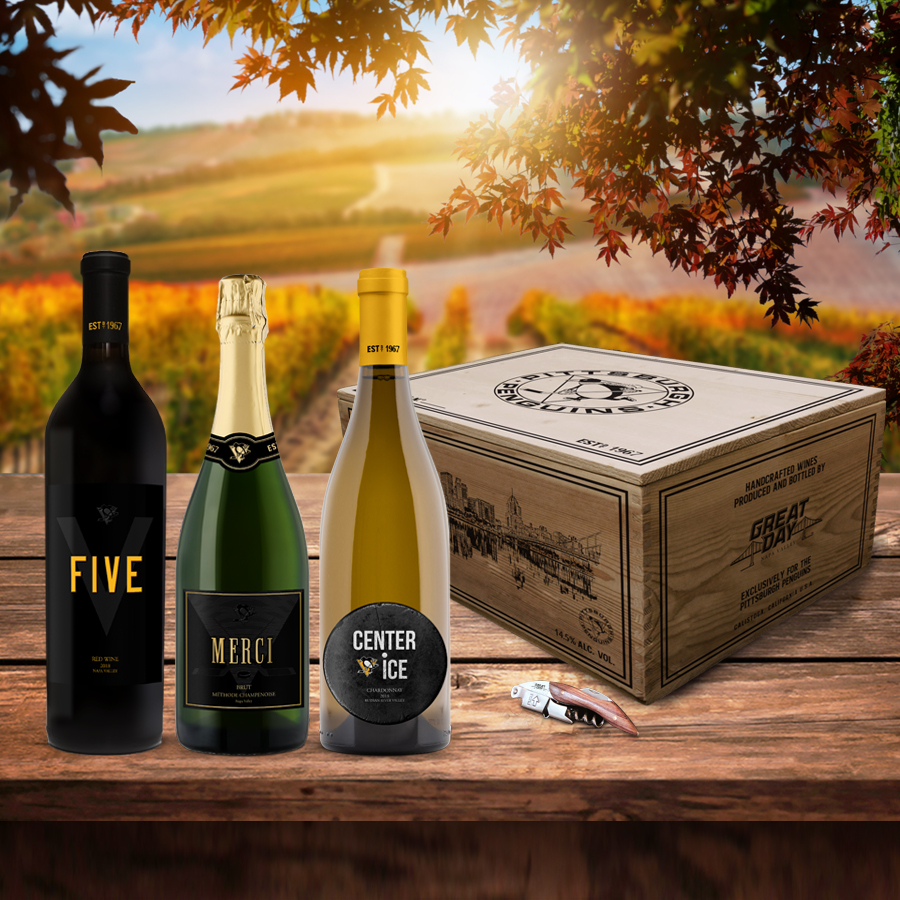 A Great Day Napa Valley will celebrate all it means to be a Penguins fan, helping toast to all of those commemorative moments, both on and off the ice.
Certain things in life make every occasion better, and can help make every day a Great Day. That is why no matter the day, it is always a Great Day for Hockey.
It's a communal feeling, one that organically brings the urge to raise a glass, so whether it's for hockey or for wine, it's always a Great Day.
Don't miss out getting in on the ground floor to experience these handcrafted limited production Napa Valley wines!

FIVE
2018 Red Wine – Napa Valley

Five isn't just a number, it signifies so much more. There are Five banners that hang from our rafters signifying our championship seasons. Those banners reside inside our building which sits on Fifth Avenue. A big reason those banners and that building exist is the 2005 NHL Draft. After winning the draft lottery that year, the Penguins selected Sidney Crosby. Let's not forget before any of those, there were Five goals scored Five different ways, a feat that has only ever been accomplished once, by Mario Lemieux. And yes, 66 hangs from the rafters, alongside those other Five.

We introduce you to FIVE. This proprietary red blend – from our award-winning winemaker Todd Heth – exhibits dark blackberry, bing cherry, and plum notes perfectly into layers of coffee and tobacco. The finish is dry with long-lasting berry fruit. Silky but firm tannins, this wine is enjoyable now but has the ability to age well in the cellar.

$95 / Bottle

Center Ice
2018 Chardonnay – Russian River Valley

"Play without fear and you will be successful! See you at center ice." That is the text message every player received on the morning of Game 7 in 2009 from team owner, Mario Lemieux. A proclamation that came to fruition hours later. And it's been a meeting place ever since. Just a year later, the Penguins' new arena was built on Centre Avenue. See you there.

We introduce you to Center Ice. Hailing from the cool and foggy climate for the Russian River Valley in Sonoma County, this beautiful medium-bodied wine was grown slowly to build intense flavors over time. This wine was aged in French oak and displays a beautiful balance of fruit, oak and liveliness on the palate and exhibits lush mango and toasted almond. Balanced fruit with tarte acidity makes this wine a classic example of Premium Russian River Chardonnay.

$56 / Bottle

Merci
Sparkling Brut -Méthode Champenoise – Napa Valley

Merci, Mario is a phrase that has been intertwined with the career of Mario Lemieux, in part because of his play on the ice, but also because of his save off of the ice, rescuing the team from bankruptcy and keeping them in Pittsburgh. Merci, meaning 'Thank You' in French, is an homage to the most important player in the history of our franchise as well as the legacy of French-Canadian players who have left a lasting impact on our team and city. We are all thankful for what we've been able to witness. Merci, indeed.

We introduce you to Merci. This premium sparkling wine – meticulously and artfully made in the traditional champagne method – rivals anything found from the best Champagne houses in Épernay and Reims. Blended superbly from Chardonnay and Pinot Noir, this magnificent Napa Valley Brut exhibits rich fruit aromatics of strawberry and delicate white cherry that follows through to a creamy mid-palate accompanied with highlights of lime and wet minerality and a lingering vibrant finish.

$85 / Bottle
Club Format and Cost
In order to receive discounted shipments and additional lifestyle benefits, you must be a member of Great Day Club. A $50 one-time, non-refundable deposit will be processed to secure your 1st shipment only. This deposit will be deducted from your 1st club shipment cost. Wines are released in two 3-Bottle or 6-bottle shipments each year based on the club level you select. The cost will range based on your selections. The cost of a bottle ranges from $35 to $75 + tax & shipping.
Each club shipment for 3-bottle members will arrive in a cardboard shipper that can be upgraded to a fire-branded Pittsburgh Penguins wooden crate for a discounted price of $25 ($50 Value). All club shipments for 6-bottles members will arrive in a wooden crate at no additional cost ($99 Value). Except for your one-time, non-refundable $50 deposit, your card will not be charged until a week before each shipment. Again, the $50 deposit will be deducted from your 1st shipment cost.
Each club shipment can also include a special welcome package and gift at no additional cost ($30 Value). Depending on the club level you choose, you can customize your wine selections! New, library and special edition wines will be offered. There is no long-term commitment, and you may cancel at any time.
Please review Great Day Napa Valley member levels and benefits on the comparison matrix presented on the Club page. Enjoy your wine and remember, when you share a glass, gift a bottle or visit the Fairwinds tasting room in Napa Valley together, you are celebrating the Penguins, our unique history and supporting our community!
A portion of the proceeds will go to support the Pittsburgh Penguins Foundation.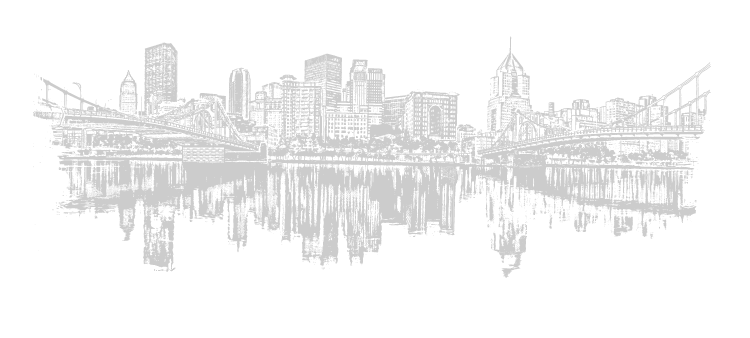 Hear about
Great Day
"The Penguins brand is synonymous with high standards and a quality product on and off the ice. Great Day Napa Valley offers a unique pairing of bold flavors and rich flavors."
Chris Zaber, Chief Revenue Officer
Pittsburgh Penguins
"I have fallen in love with Pittsburgh because of its authentic people and rich history. I am truly honored to make these wines for the Pittsburgh Penguins and celebrate the culture, people and history of such a special team and place."
Brandon Chaney, Proprietor & CEO
Great Day Napa Valley & Fairwinds Estate Winery
Experience the Benefits and Lifestyle!
Membership financially supports the Penguins Foundation.
Club membership options to best fit your budget and lifestyle.
Two shipments of 3 or 6 bottles per season (minimum to retain club level seniority).
Wine received in a keepsake vintage Pittsburgh Penguins fire-branded wooden crate.
Exclusive access to limited releases and library wines.
Discounted access to online store to replenish your cellar and gift wines to friends & family.
Free wine tasting experiences at Fairwinds in Napa Valley.
Special access to Penguins only events and functions.
Your name honored on the Great Day Member Plaque at the winery.
Fairwinds Estate wines are offered at 10% off.